One of the most important goals of Lean Alignment Partnering™ is to insure that communication is clear, effective and efficient. Construction projects lend themselves to confusing, ineffective and inefficient communication.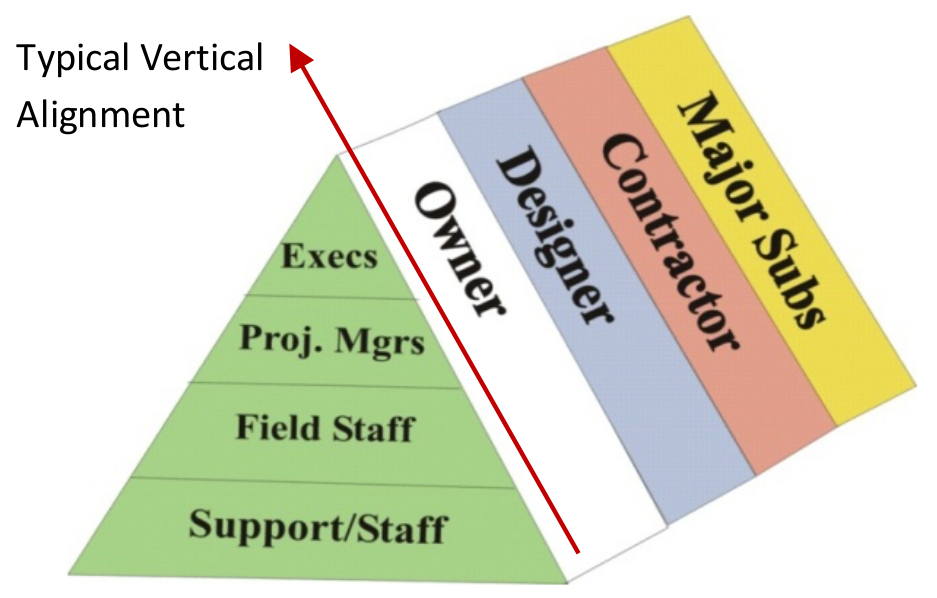 Typical communication between companies on jobs follows the "silo" pattern—answers to important questions have to be routed through the company, rather than being discussed at the appropriate level and having a joint response sent to the next management level.
In Lean Alignment Partnering™, project teams are established that more appropriately reflect both the job and the level of authority of the professionals on the project. Rather than the typical vertical configuration of company teams, project teams are realigned or configured horizontally to reflect authority and responsibility to the Project.
Thus, the executive officers from the Owner, the Contractor (and its major Subcontractors), the CM and the Designer form an Executive Team to make decisions regarding the Project.
Project managers from each company form a separate team to focus the work on the Project, forecast risks and opportunities, meet to decide what recommendations to make to the executive team regarding risks or problems that have arisen on the job and engage in the management of the construction. Filed and Office teams deal with implementation on site, supervision of crews, inspections etc., but all with the objective of maximizing the "Project First" effort of all of the horizontal Project teams.